Son güncelleme tarihi : 15 May 2022
This is a guide that you can find answers to any kind of question that you may have. Let's start our journey to creating and verifying an account on Stripe, the most preferred payment gateway.
Overview
Every entrepreneur needs a payment gateway like Stripe to start an e-commerce business. However, the countries that are supported by Stripe are limited. The solution is possible if you can meet every condition required by Stripe
How does Stripe accept when an account is created from an unsupported country?
To make this possible, looking at the FAQ documents is enough. They explain their needs clearly. Stripe says;
Everything is clear above. To create a Stripe account, the country should support Stripe. Since the USA is on the list of supported countries, if you start a business there, the problem will be solved.

To start an LLC in the USA for a reasonable price (between $110 and $150), the first thing you should do is following this guide and establish your business. Otherwise, as a result of all the other illegal ways, your Stripe account will be suspended. The safest way of starting an LLC is, getting an EIN and creating a Stripe account.

You should meet the requirements below after starting your company.

The Requirements to Create an Account from a Different Country

The Tax ID in the country that you want to establish your company (EIN can be gotten from IRS after incorporation of the company.)
A physical place address in that country that you can receive mail. A virtual mailbox is not accepted. (It is not the place you live in; we will give more details about it.)
A phone number from that country. (You can get it from Zadarna for $2 or $3)
An ID, passport, or driver's license that given by the government
A website that completed, and complies with the terms and conditions of Stripe. (Click here)
The currency that is used in that country and a physical bank account. Mercury or Transferwise is accepted.

 

How to Overcome the Address Verifying Process for Stripe

Since your company is in the USA, there is no problem. The address on the incorporation document is enough for the verifying process.

What are the needed documents for verifying?

Let's look at the Stripe documents again;

The document we need is the Main Agreement or the commercial papers given by the other government. (This is our incorporation document. When the address in your Stripe account and on the LLC incorporation document, or "Articles of Organization", matched, verifying is done.)
Since we are not residents in the USA, we cannot document an address under our name. We will use the Articles of Organization document which is provided when you start an LLC.
Let's summarize all the requirements till now and list everything;
Since we will create a Stripe account as a company from the USA, an LLC incorporated in any state.
The incorporation document, which is sent to you after incorporation. (It is needed to verify the address)
An EIN after the incorporation
A phone number in the USA
A website that is completed, and complies with the terms and conditions
A physical bank account
After fulfilling these conditions, a verified and legal Stripe account can be created and you can start to accept payments from your clients. Let's get into details of the steps of fulfilling these conditions.
Starting an LLC in the USA
There are lots of resources on this website about this subject but establishing the company in Kentucky with Inc Authority is the most reasonable and low-priced solution. The total of the incorporation expenses is $150 with a 20% discount right now.
Follow the Starting an LLC in the USA with Inc Authority guide to establish your company.
LLC Articles of Organization
After establishing your company, you can download your document from your Inc Authority panel. Download and save your document.
You have a document like below for Kentucky;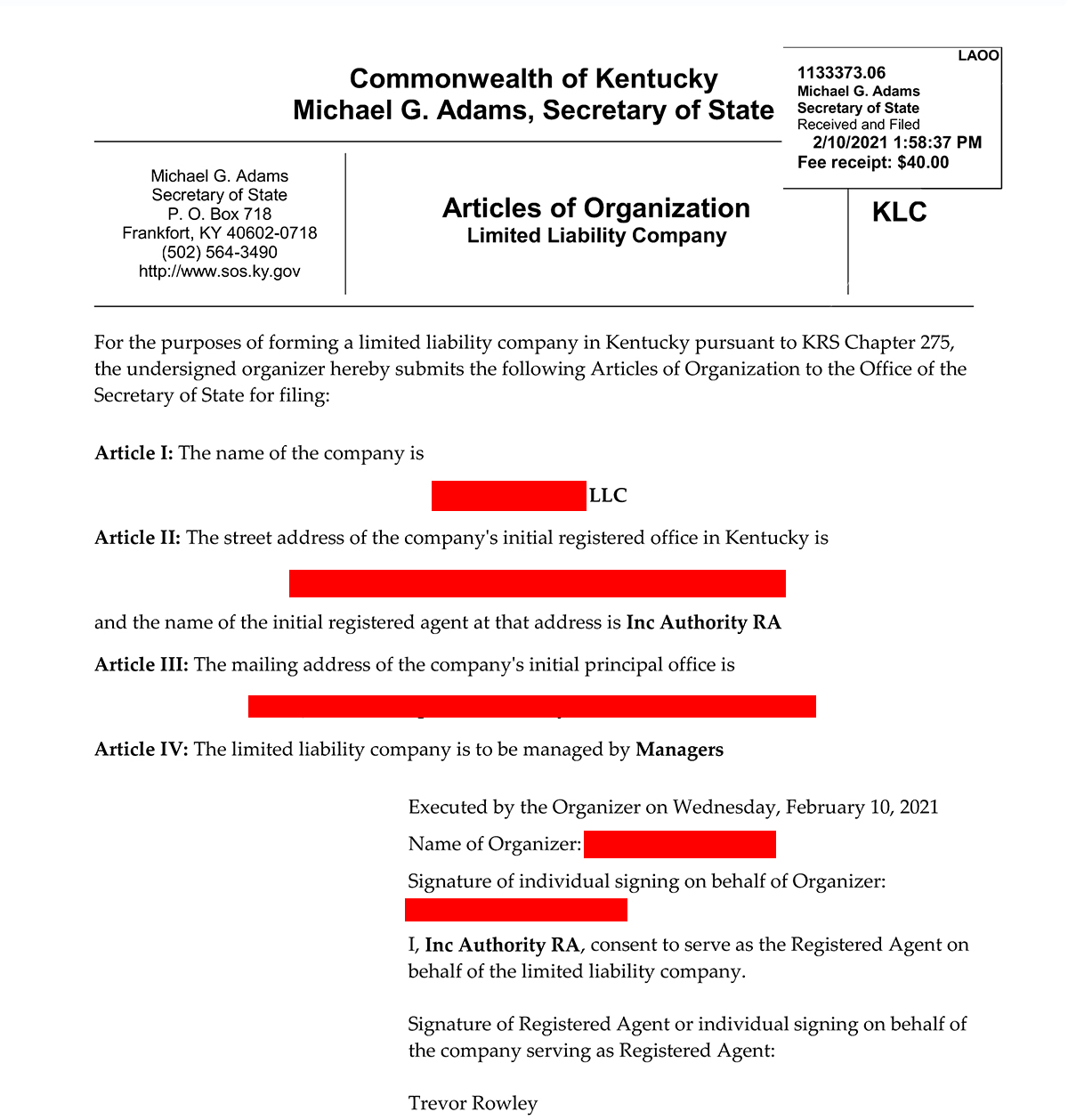 Get Your EIN
EIN will be gotten from IRS by Inc Authority and delivered to you after your company is established
A Phone Number from the USA  
We have already discussed this subject here.
A Website That is Completed, and Complies with the Terms and Conditions
I explained this part above. Your website is the crucial part. Since everything, the bank account, the incorporation of the company, etc., is based on your business, it is highly recommended that getting your website ready beforehand.
A Physical Bank Account
The mentioned physical bank is a real bank. You can use Mercury Bank or Transferwise for free.
Creating a Stripe Account
Go to dashboard.stripe.com/register and fill out the form.
Choose the country where your company is located.
Write down your company e-mail address, name, and surname. Select the United States and create a password. Create your account by agreeing on the terms.
Complete your e-mail activation.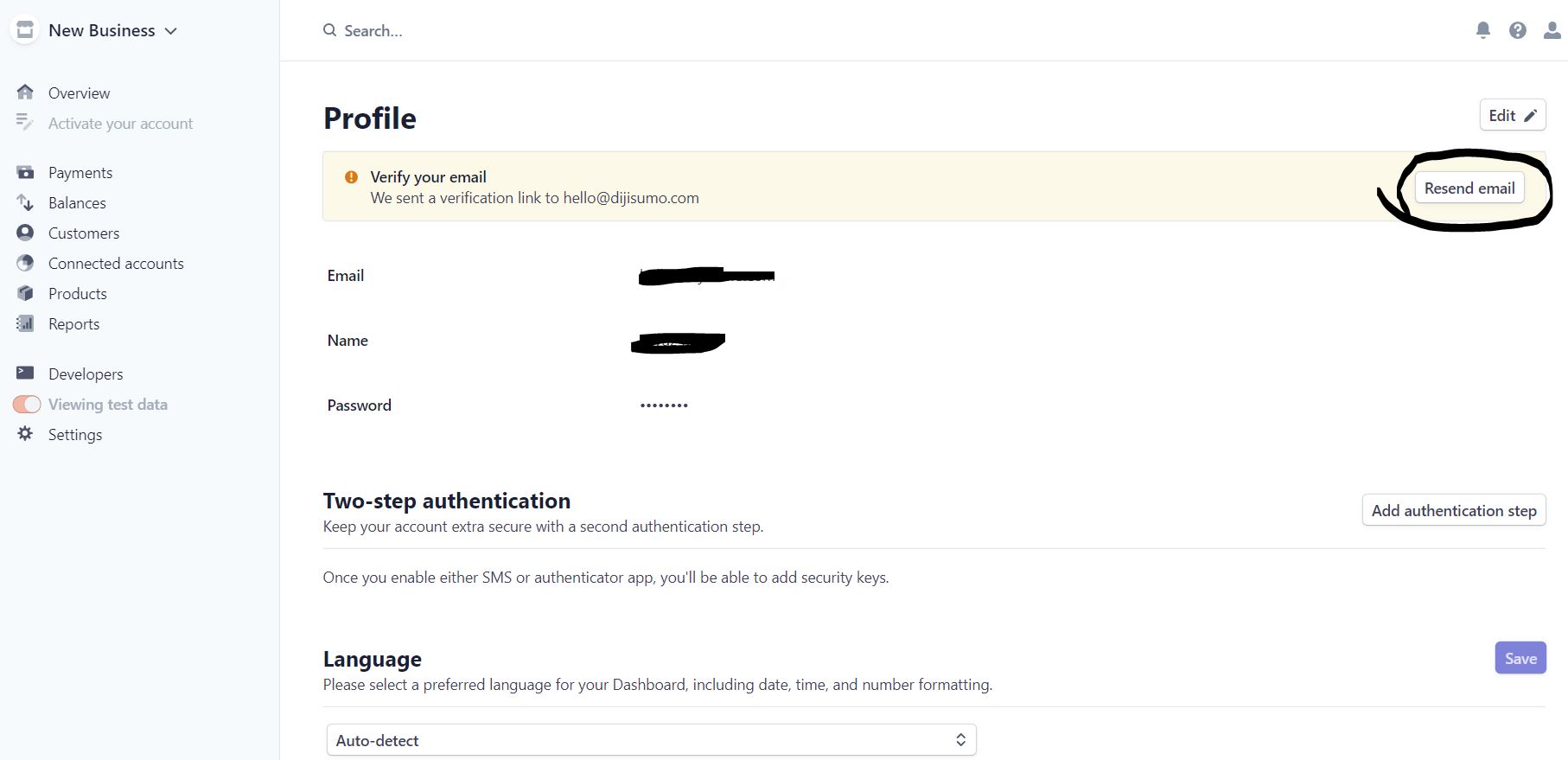 Now, you can create your business account.
In order to do it, click on New Account from the top left, and write your company name

After creating a new account for your company, click on the "Activate Your Account" on the left side.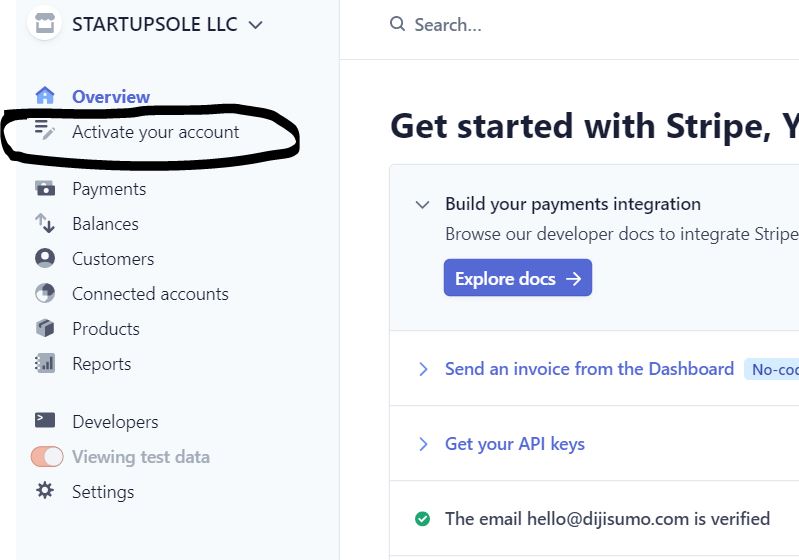 After choosing the registered business address and business structure, continue.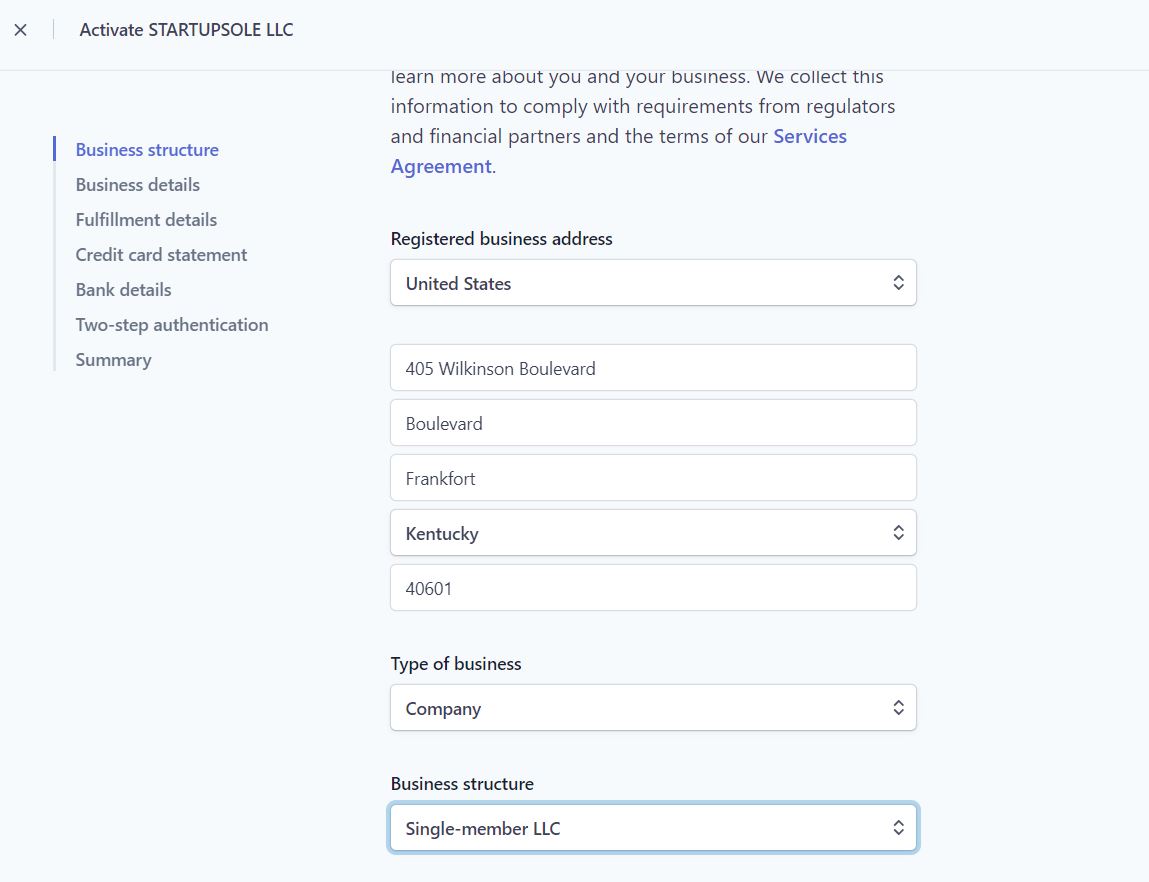 In this step, you have to be sure that you are giving the right and full information.
You can continue to the next step after writing your legal business name, EIN, industry, business website, and a brief product description.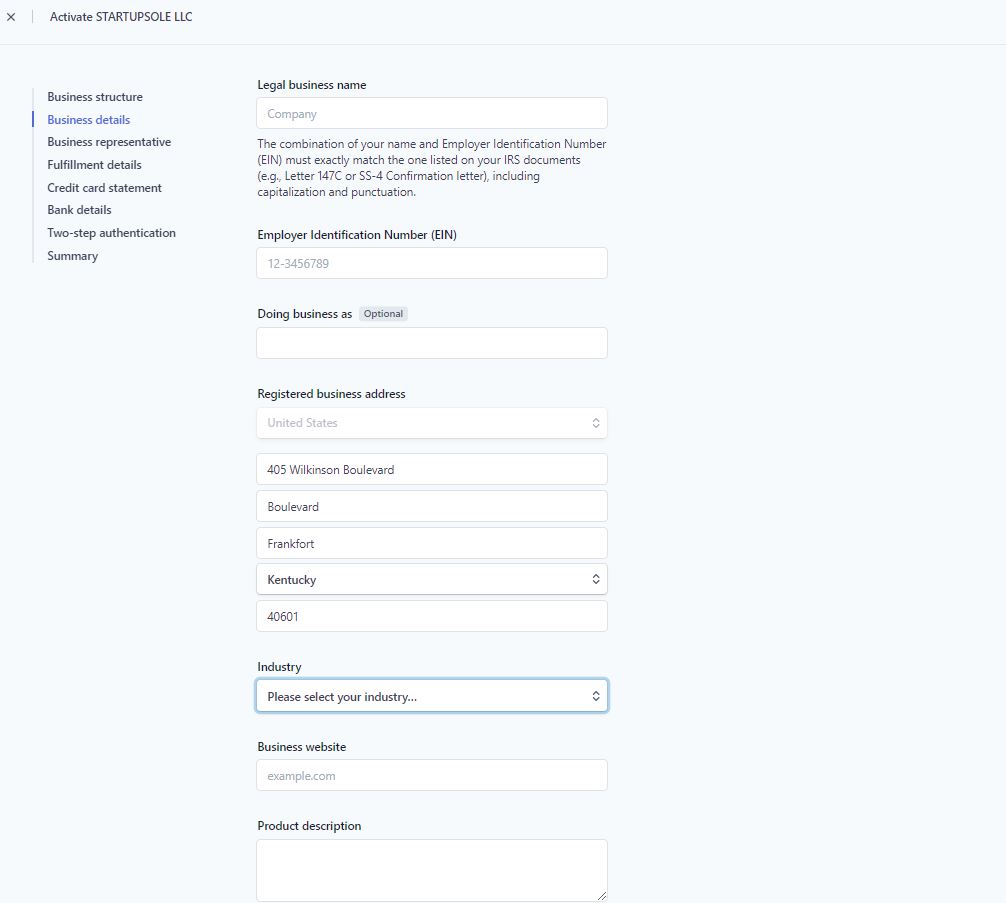 Fill out every form from the left side.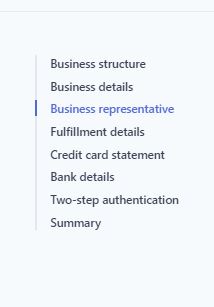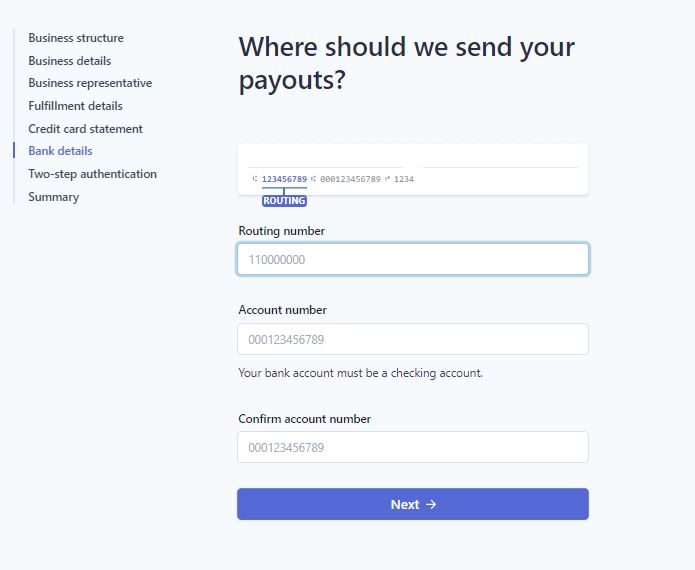 You can fill out the bank account information part with your Mercury Bank or Transferwise information.
After everything is done, you will have a verified Stripe account.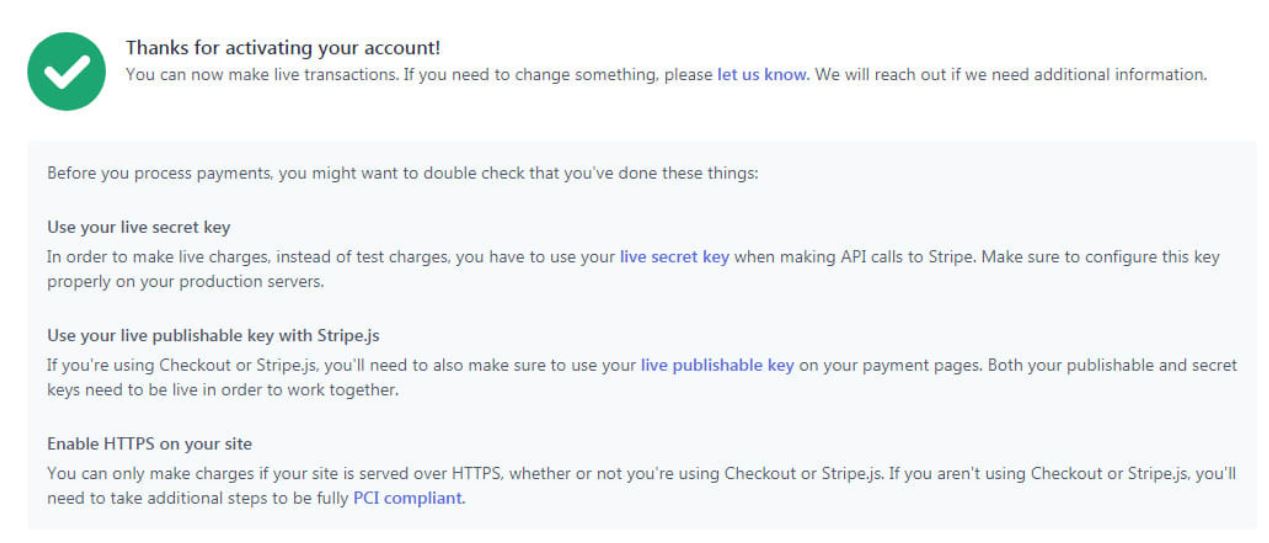 You can see the tax information is verified in the screenshot below.
Finaly
Please test it before on the test mode. Then go to live mode and get the API and secret key and complete the integration process of your website.
Conclusion
When you complete these steps, you will have an account on the most used and safest payment solution, Stripe.